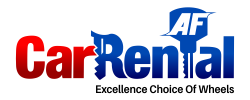 NEED HELP?

+6016-4456640
AF CAR RENTAL JOHOR | AFCR SDN BHD
270, Jalan Simbang Taman Perling Johor 81200 Malaysia
.
TERM & CONDITIONS
Rates specified are for a minimum of 24 hours rental. Additional hours will be calculated, per hour up to a maximum of 4 hours only ( 15% from Daily Rate). More than that consider another days
Please take note there are minimun 2days rental for WEEKEND, PUBLIC HOLIDAY & USAGE OUTSIDE JOHOR BAHRU AREA
Rates Include :
Unlimited kilometers and maintenance
The rental rates include full indemnity for accidental damage to third party property and bodily injuries. However, in line with the commercial insurance practice, the customer is always responsible for an amount equivalent to the excess clause not exceeding for Group A (RM2,500), Group B (RM5,000) and Group C (RM10,000).
We offer the customer the option to waive the financial responsibility resulting from damage vehicle while it under rental agreement. This can be done by accepting the Collision Damage Waiver (CDW) at the time of taking delivery of the vehicle on payment of 15% from rental rates. However the customer is liable for a Non-Waiverable Damage Excess for Group A (RM1,500), Group B (RM2,500) and C (RM5,000).
In addition to the rent charges, the customer is required to have a cash security deposit and an equivalent as a guarantee of proper usage of the vehicle for the entire duration of the contract, sum which will be reimbursed if no damage or summons is notified on its delivery.
| Group | 1 – 6 days | 7 – 14 days | 15– 30 days |
| --- | --- | --- | --- |
| | | | |

Deposit will be refunded to customer based on schedule below


| Rental Period | Refund Date |
| --- | --- |
| | |
| | |
Rates exclude:
Damage due to negligence, tyre punctures and burst tyres, fuel errors, lack of electricity because of forgotten turned off electrical devices, loss or damage to the vehicle accessories.

The customer is reminded that underbody and overhead damage is at the their own risk at all time. All insurance is void if vehicles are driven on unsealed and unmade roads or surfaces.

Rates do not include petrol, toll fees (cash, SmartTag or Touch 'n Go), Singapore permit, parking charges, traffic fines, airport charges, fuel & other optional charges.
Driver Regulation
Renters must be between the age of 23 and 65 years old.

Renters must possess a valid local driving license or an international driving permit with qualified driving experience of at least one year.

Additional RM30 will be charged for a second driver.
Document Requirement
Photocopy of driver NRIC/Passport dan License

Photocopy of NRIC/Passport of guarantor

Business card (if any)
Parking Fees and Traffic Fines
Renters are responsible for all parking fees and traffic fines incurred during the rental period.

Renters will be charged an additional of RM20 for every summons paid by Johor Car Rental Services.
Extension of Rental
Should renters wish to extend the rental or appoint any additional drivers, it is compulsory to inform a AF Johor Car Rental Services immediately.
Booking Cancellations
Booking deposit are non refundable and a penalty of RM300.00 will be imposed if cancellation is made before 48 hours from the date of rental.
Driving Restriction
All Malaysia vehicles are strictly prohibited from being driven into Thailand.
Optionals
Child seats are available at RM50.00 nett per unit per rental and subject to availability.

A complimentary Malaysia map will be provided to renter.
Vehicle Condition
Upon return, the car has to be in the same condition as when it was rented. Failing which, the renter will be liable for the cost of restoring the vehicle to its original condition.
Prohibition of Goods
All prohibited goods (such as pirated VCDs, drugs, alcohol, etc.) and goods with an unpleasant odor are also strictly prohibited from being carried in the vehicle (eg. durian, salted fish, etc.). Renter will be responsible to pay all costs of removing odors, including air-conditioning service and loss of rental days for the company.